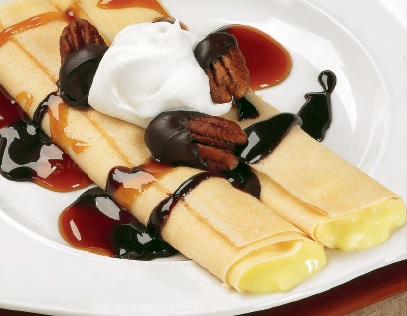 Nutrition
Per serving (2 crepes)
320 calories
5 g protein
43 g carbohydrate
< 1 g fiber
16 g fat
4.5 g saturated fat
30 mg cholesterol
290 mg sodium
Ingredients
| | |
| --- | --- |
| 24 each (6" size) | Prepared crepes |
| 5-1/4 cups | Bay Valley® Brand or Thank You® Brand Vanilla Pudding |
| 3 oz | Fudge sauce, warmed |
| 3 oz | Caramel sauce, warmed |
| 6 oz | Whipped cream, sweetened |
| 3 oz | Pecan halves, toasted |
Procedure
Spoon 1/4 cup (approx. 2 oz.) pudding on lower third of crepe.
Bring upper third over filling; fold sides toward center.
Repeat with remaining crepes and pudding.
To serve, plate 2 crepes.
Drizzle with 1/4 oz. warm fudge sauce and 1/4 oz. warm caramel sauce.
Top with 1/2 oz. whipped cream and 1/4 oz. pecans.
Repeat with remaining crepes, pudding, sauces, and pecans.
Yield: 12 Servings (2 crepes per serving)
Chef's Tip:
Chocolate or chocolate fudge pudding may be substituted for vanilla pudding. Sliced strawberries may be substituted for pecan halves. Eliminate caramel sauce.
Nutrition
Per serving (2 crepes)
320 calories
5 g protein
43 g carbohydrate
< 1 g fiber
16 g fat
4.5 g saturated fat
30 mg cholesterol
290 mg sodium
For questions or to place an order, click here to contact your Bay Valley Foods representative.