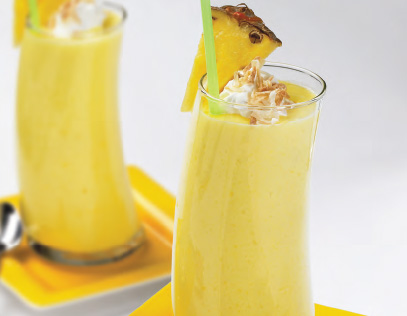 Nutrition
Per serving
180 calories
4 g protein
35 g carbohydrate
< 1 g fiber
4.5 g fat
1 g saturated fat
< 5 mg cholesterol
160 mg sodium
Ingredients
| | |
| --- | --- |
| 4 oz | Plain lowfat yogurt |
| 1 can (20 oz) | Crushed pineapple, undrained |
| 2 cups | Bay Valley® Brand or Thank You® Brand Vanilla Pudding |
| 3/4 cup | Milk, 2% |
| To garnish | Whipped topping |
| To garnish | Coconut, toasted |
Procedure
Add yogurt and pineapple to blender container.
Blend on high until combined.
Add pudding and milk; blend on high.
Pour into glasses.
To serve, garnish with whipped topping and coconut.
Yield: 6 Servings
Chef's Tip:
Substitute fat free yogurt for lowfat yogurt, fat free vanilla pudding for regular vanilla pudding, and skim milk for 2% milk. Garnish with light whipped topping.
Nutrition
Per serving
180 calories
4 g protein
35 g carbohydrate
< 1 g fiber
4.5 g fat
1 g saturated fat
< 5 mg cholesterol
160 mg sodium
For questions or to place an order, click here to contact your Bay Valley Foods representative.