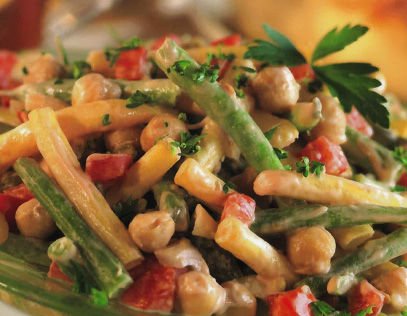 Nutrition
Per serving*
140 calories
4 g protein
18 g carbohydrate
4 g fiber
7 g fat
2.5 g saturated fat
10 mg cholesterol
460 mg sodium
*without garnish
Ingredients
| | |
| --- | --- |
| 1 cup (8 oz) | Rod's® French Dressing |
| 1 cup (8 oz) | Sour cream |
| 1 lb | Green beans, canned, drained |
| 1 lb | Wax beans, canned, drained |
| 15 oz | Garbanzo beans, canned, drained |
| 3 cups | Tomatoes, seeded and chopped |
| 1/2 cup | Onion, chopped |
| To garnish | Parsley, chopped |
Procedure
Combine dressing and sour cream in large bowl; mix well.
Add green beans, wax beans, garbanzo beans, tomato and onion; mix well.
Cover and refrigerate for 2 hours.
Just before serving, sprinkle with parsley.
Yield: 12 Servings
Chef's Tip:
Fresh green beans and fresh wax beans, blanched, may be substituted for canned green and wax beans.
Nutrition
Per serving*
140 calories
4 g protein
18 g carbohydrate
4 g fiber
7 g fat
2.5 g saturated fat
10 mg cholesterol
460 mg sodium
*without garnish
For questions or to place an order, click here to contact your Bay Valley Foods representative.